Honduran company recognized by many independent international auditors
It is proving to be a record year for the level of domestic and international recognition received by Corporación Dinant of Honduras. Dinant currently holds over 50 certifications and awards from independent auditors covering such important issues as environmental management systems, occupational health and safety, sustainability, traceability of raw materials, and control of greenhouse gas emissions.
Company Spokesman, Roger Pineda, commented, "Dinant has invested significant time and resources in recent years to improve all aspects of our Honduran operations,creating long-term, sustainable strategies to revitalize the natural world, strengthen local communities, and improve individual well-being. A range of prestigious independent international auditors – including ISO, OHSAS, ISCC and the United Nations – now recognize the high standards we have attained across every part of our business, including our factories, warehouses, African Palm plantations and vegetable greenhouses."
Current certifications and awards include:
The United Nations Clean Development Mechanism certification for Dinant's high-tech biogas recovery unit at its oil extraction mill in the Aguán, which has generated 50 million m³of biogas and reduced the company's use of fossil fuels by 6 million gallons since 2008. (In fact, both of Dinant's oil extraction mills in Honduras have net zero operations with respect to energy, water and waste).
All Dinant operating facilities in Honduras have been granted ISO 14001 and OHSAS 18001 status for their environmental management systems and occupational health & safety.
Dinant's African Palm oil extraction mills and plantations have received two International Sustainability and Carbon Certifications – ISCC EU and ISCC Plus – in recognition of the sustainability of raw materials and products, the traceability of supply chains, and the control of greenhouse gas emissions.
Dinant has received 14 SAFE WORK WITH SAFE COMPANY certifications, issued by the Honduran Ministry of Labor and Social Security, in recognition of the company's full compliance with Honduran labor laws.
Mr. Pineda continued, "In addition to these accolades, Dinant is fully compliant with the World Bank's Performance Standard 4on community health, safety and security, and we are implementing the Voluntary Principles on Security and Human Rights. Thanks to the hard work and talents of thousands of Honduran staff, spearheaded by our dedicated sustainable development and environmental teams, Dinant is now widely recognized asan international benchmark in how to operate a successful business transparently and honestly in one of the most challenging regions in the world."
In order to further its sustainability goals, Dinant is partnering with world class organizations that are undertaking groundbreaking work on sustainability around the globe. Since 2014, Dinant has reduced water consumption by 73%, industrial wastewater generation by 40%, and energy consumption in production processes by 54%. Now, the company is setting itself a range of even tougher targets, including furtherreducing its carbon and water footprints.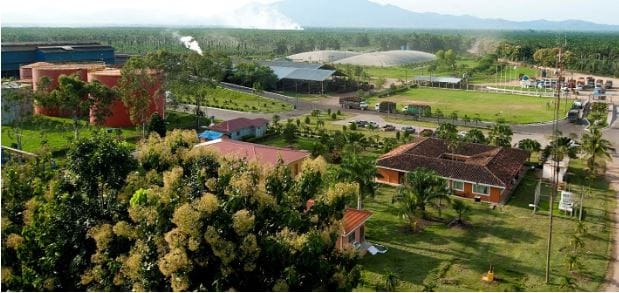 Dinant's high-tech biogas recovery unit – registered as a Clean Development Mechanism project by the United Nations – has reduced the company's use of fossil fuels by 6 million gallons since 2008.
About Corporación Dinant
Dinant is a family-owned consumer products manufacturer founded in Honduras in 1960.  Its products are sold across Central America and the Dominican Republic.  The companyemploys 7,200 people worldwide, supports a further 22,000 livelihoods, and contributes significantly to the Honduran economy.  Dinant rigorously benchmarks its operations against stringent international standards regarding economic, environmental and social impacts.