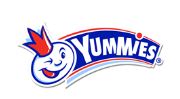 January 30, 2020.– Yummies, the leading brand in the region launched Yummi Nuts, a snack full of energy and flavor that is renewed to offer a higher quality product.
The seed division of Snacks Yummies now has a brand called Yummi Nuts and a new image in its packaging, cleaner and more attractive. In addition, a new selection of seeds, nuts and nuts was developed to obtain a final result of very high quality that satisfies even the most demanding palates.
Tiara Facusse, Brand Manager of Yummi Nuts, commented that "it is a very healthy snack, perfect to get energy for daily living, to exercise or also to enjoy something delicious and nutritious. In Dinant we always focus on innovation and that is why we are interested in offering high quality seeds, with an attractive image and at an affordable price ".
Yummi Nuts has Peanut with Salt, Peanut with Lemon, Peanut with Toreado Chile and Seed Mix, all perfect for eating alone or for sharing, enjoying and filling up on nutrients.
Finally, the new image of Taco was presented, now with a packaging with a cooler design and with more product.
To learn more about innovations and promotions visit www.snacksyummies.com and @SnacksYummies on Facebook, Twitter, Instagram, and YouTube.