President Juan Orlando Hernandez Launches Zambos as a National Brand
Zambos – the iconic snacks brand made by Dinant and part of Honduran culture – will represent Honduras in a Government campaign to promote the nation's values, traditions and skills abroad.
An agreement signed by President Juan Orlando Hernandez and Miguel Mauricio Facusse, Executive President of Corporación Dinant, means that millions of packets of Zambos snacks exported by Dinant every year will now carry the Brand Honduras logo around the world.
Hilda Hernandez, Minister of Communications, joined President Orlando and Mr. Facusse at an event in Tegucigalpa earlier this week to announce this important strategic partnership between Brand Honduras, Dinant and the National Investment Council (CNI).
Miguel Mauricio Facusse said, "I am honored that Zambos has been chosen among many thousands of products to carry the message of this nation far and wide. Dinant is enormously proud of its Honduran roots, and the success of these hugely popular snacks has been built upon the solid foundations of the hard work and dedication of so many Hondurans over the years."
Mr. Facusse continued, "Made at our high-tech facilities in San Pedro from Honduran and Central American plantains, these simple, healthy and delicious snacks have become so popular that they are now part of Honduran heritage. Perhaps more importantly, the production of 2 million packets of Zambos every week supports thousands of jobs – including Dinant staff and hundreds of independent suppliers and distributors – in one of the poorest parts of the country. It is fitting that this iconic brand has been chosen to represent the values and traditions of Honduras."
About Corporacion Dinant
Dinant is a family-owned consumer products manufacturer founded in Honduras in 1960. Its products are sold across Central America and the Dominican Republic, and exported to global markets. Dinant employs 8,000 people, supports over 22,000 livelihoods, generates millions of US dollars in exports for theHonduran economy, and contributes significantly to all communities in which it operates. Dinant rigorously benchmarks its operations against stringent international standards regarding the economic, environmental and social impact of its African Palm oil business. All Dinant facilities in Honduras have achieved ISO 14000 and OHSAS 18001 status for high standards of environmental management and occupational health & safety. Dinant adheres to the Voluntary Principles on Security and Human Rights, andhas invested significantly in building better relations with local communities through regional grievance mechanisms and employing local social workers.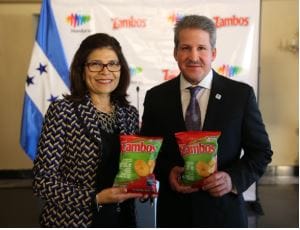 Hilda Hernández, Ministra de Comunicaciones, y Miguel Mauricio Facusse, Presidente Ejecutivo de la Corporación Dinant.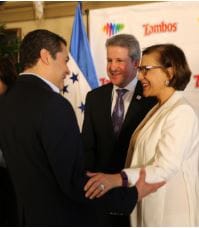 El Presidente Juan Orlando Hernández, Miguel Mauricio Facusse y la Sra. Lorena Facusse.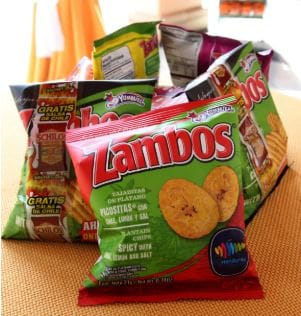 2 millones de paquetes de zambos se producen cada semana en la fábrica de alta tecnología de Dinant en San Pedro Sula, Honduras.

Miguel Mauricio Facusse, Presidente Ejecutivo de la Corporación Dinant, dijo, "Dinant está muy orgulloso de sus raíces Hondureñas, y el éxito de estos snacks muy populares se ha construido sobre los cimientos de la ardua labor y dedicación de tantos hondureños en el paso de los años."