Company's Snacks Factory in San Pedro Sula Granted HACCP Certification
The Food Safety Program at Corporación Dinant's hi-tech snacks factory in San Pedro Sula, Honduras, has been recognized by one of the world's foremost auditors of operational standards.  SCS Global Services – a trusted leader in third-party food quality certification – has independently audited Dinant's Snacks Plant and certified that it maintains an HACCP-based Good Manufacturing Practices (GMPs) Food Safety Program.
Hazard Analysis and Critical Control Point (HACCP) is an internationally recognized system for reducing the risk of safety hazards in food.  Companies involved in the manufacture or handling of food products can use the HACCP System to control major food risks, such as microbiological, chemical and physical contaminants, and therefore assure consumers that its products are safe.
Company Spokesman, Roger Pineda, commented, "Dinant's snacks plant has been a source of company pride for many years, producing some of this country's most popular and iconic brands using vegetables supplied by local independent farmers.  The factory stands out for its hi-tech production lines, employing sophisticated packaging, manufacturing and water treatment equipment imported from the United States, Japan and Spain.  This prestigious international award is testament to the hundreds of local men and women of San Pedro Sula whose talents and hard work have made our snacks among the most popular in Central America."
Dinant's manufacturing plant in San Pedro Sula produces the Yummies range of snacks, including Zambos chips, the iconic brand chosen last year by President Juan Orlando Hernandez to be part of a Government campaign to promote Honduran values, traditions and skills abroad.
Mr. Pineda continued, "This is the latest in a number of important international certifications that Dinant has received.  All our operating facilities have been granted ISO 14001 and OHSAS 18001 status in recognition of their environmental management systems and occupational health & safety.  And Dinant's African Palm oil extraction mills and plantations in the Lean and Aguán regions of Honduras have been awarded two additional prestigious International Sustainability and Carbon Certifications – ISCC EU and ISCC Plus – in recognition of the sustainability of our raw materials and products, the traceability of our supply chain, and our control of greenhouse gas emissions."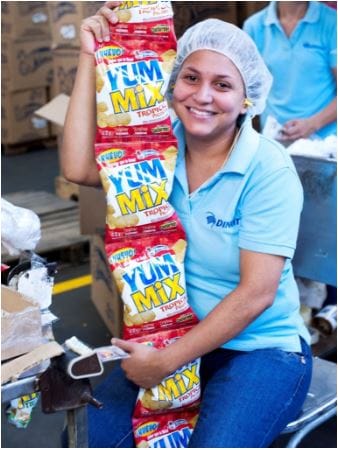 Dinant's award-winning factory in San Pedro Sula uses vegetables supplied by local independent farmers to produce the iconic Yummies range of snacks.
About Corporación Dinant
Dinant is a family-owned consumer products manufacturer founded in Honduras in 1960.  Its products are sold across Central America and the Dominican Republic, and exported to global markets.  The companyemploys 7,200 people worldwide, supports a further 22,000 livelihoods, generates millions of US dollars in exports for Honduras, and contributes significantly to the economies of all regions and countries in which it operates.  Dinant rigorously benchmarks its operations against stringent international standards regarding economic, environmental and social impacts.