Energy use at Honduran African Palm plantations down 54% since 2014
Corporación Dinant today announced a series of results showing the long-term environmental benefits of the company's significant investments in its African Palm plantations in the Aguán and Leán regions of Honduras.
Since 2014, Dinant's African Palm plantations have significantly cut their impact on the natural environment. Water consumption has been reduced by 73%, industrial wastewater generation is down 40%, and production processes now use 54% less energy.
Company Spokesman, Roger Pineda, commented, "Dinant has invested heavily in recent years to ensure that our African Palm plantations have less impact on the environment, and I'm delighted that we are seeing excellent results. Our oil extraction mills in Honduras have net zero operations with respect to energy, water and waste. Over 95% of the waste produced at our plantations is reused, marketed or recycled. And in the Aguán, the clean energy generated from biomass and biogas has enabled us to reduce our use of fossil fuels by 25% ".
Dinant's high-tech biogas recovery unit at its oil extraction mill in the Aguán, which has generated 50 million m³of biogas and reduced the company's use of fossil fuels by 6 million gallons since 2008, has been designated a Clean Development Mechanism by the United Nations.
Mr. Pineda continued, "In recognition of our investment in the environment, Dinant's African Palm oil extraction mills and plantations have received two International Sustainability and Carbon Certifications – ISCC EU and ISCC Plus – for the sustainability of raw materials and products, the traceability of supply chains, and the control of greenhouse gas emissions. We're really proud of the progress we're making, but we know there is still more work to be done."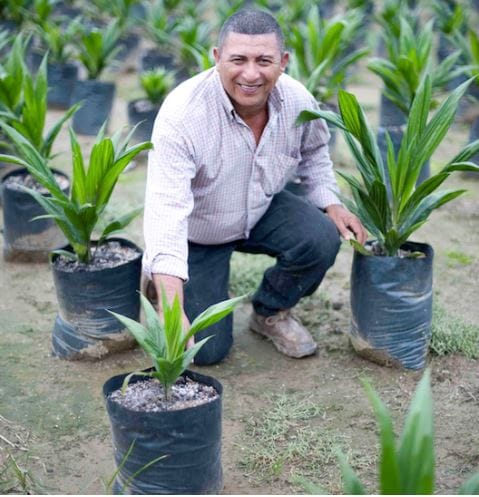 Since 2014, water consumption at Dinant's African Palm plantations in Honduras has been reduced by 73%.
About Corporación Dinant
Dinant is a family-owned consumer products manufacturer founded in Honduras in 1960.  Its products are sold across Central America and the Dominican Republic.  The companyemploys 7,200 people worldwide, supports a further 22,000 livelihoods, and contributes significantly to the Honduran economy.  Dinant rigorously benchmarks its African Palm business against stringent international standards regarding economic, environmental and social impacts.  All Dinant operating facilities in Honduras have been granted ISO 14001 and OHSAS 18001 certifications for their environmental management systems and occupational health & safety.