Part of wider company program to modernize security, engage with communities, reward local staff and protect the environment
Corporación Dinant – the agribusiness and consumer products manufacturer founded in Honduras in 1960 – has expanded its training on the Voluntary Principles on Security and Human Rights to operations in Guatemala and El Salvador.
Dinant was the first company in Honduras, and probably the first agribusiness throughout the world, to fully implement the Voluntary Principles – an internationally accepted benchmark that strictly governs how an organization vets, recruits and trains its security staff.  The company already trains 100% of security guards in Honduras on the Voluntary Principles.  The expansion of the program to other Central American countries follows the company's decision last year to provide training to all divisions in Honduras, including Sales & Distribution.  In addition, Dinant has removed all firearms from the security guards at its plantations, extraction mills and manufacturing plants.
Company spokesman, Roger Pineda, commented, "These are exciting times for Dinant.  We have proven that it is possible to do business successfully, honestly and transparently in challenging parts of the world.  The key to our success has been modernizing our security, engaging peacefully and respectfully with local neighboring communities, rewarding our talented staff with good pay and benefits, and protecting the natural environment."
Dinant directly employs 7,200 people worldwide – who in turn support over 22,000 family members – as well as many thousands of contractors, vendors and suppliers who depend on the company.  Dinant pays considerable local and national taxes, generates many millions of U.S. Dollars in exports for the Honduran economy, and contributes significantly to all regions and countries in which it operates.
Mr. Pineda continued, "Dinant's model is being closely watched and now replicated by other companies in Honduras and Central America.  I am proud of what Dinant has accomplished, and I challenge those who wish for peace, prosperity and progress for the Honduran people to work with us to accomplish these noble objectives."
Dinant benchmarks its African Palm Oil business against stringent international standards on economic, environmental and social impact; the sustainability of supplies; and engagement with all local stakeholders.
All Dinant operations have been granted ISO 14001 and OHSAS 18001 status for their environmental management systems and occupational health & safety.  Dinant's African Palm oil extraction mills and plantations in the Lean and Aguán regions of Honduras have been awarded two prestigious International Sustainability and Carbon Certifications – ISCC EU and ISCC Plus – in recognition of the sustainability of raw materials and products, the traceability of the supply chain, and control of greenhouse gas emissions.
Dinant's community engagement program has been expanded through stakeholder surveys, local Community Grievance Mechanisms and the recruitment of professional liaison workers based at the heart of local communities.
For 9 years running, Dinant has received the prestigious Empresa Socialmente Responsable– or "Socially Responsible Business" – award for its outstanding commitment to local communities.
Furthermore, Dinant has consistently engaged energetically, peacefully, and transparently with those who hold different views in the belief that common points of mutual interest can be found.   The company invites all interested parties – including its critics – to visit its African Palm plantations in the Bajo Aguán region, as well as the rest of its operations sites, to see the results of the extensive resources that Dinant is investing in modernized security, community engagement, and environmental management.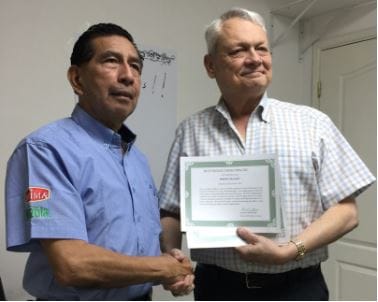 Roberto Rosales, Dinant Security Manager in Guatemala, successfully completed the company training program led by world-renowned security and human rights expert, Charles McFetridge.